This post may contain affiliate links, meaning if you book or buy something through one of these links, we may earn an affiliate commission at no additional cost to you. Learn more
Is it time to invoice your client, but you're not sure how and where to begin? An invoice template printable will go a long way to assuring your clients to trust you and pay on time.
Invoices are simple documents. However, missing out even one key piece of information can cause problems and payments to be late.
In this article, we'll break down what makes an efficient, trustworthy invoice. And we'll cover all the information that should be in every invoice.
Where Can I Find an Invoice Template Printable?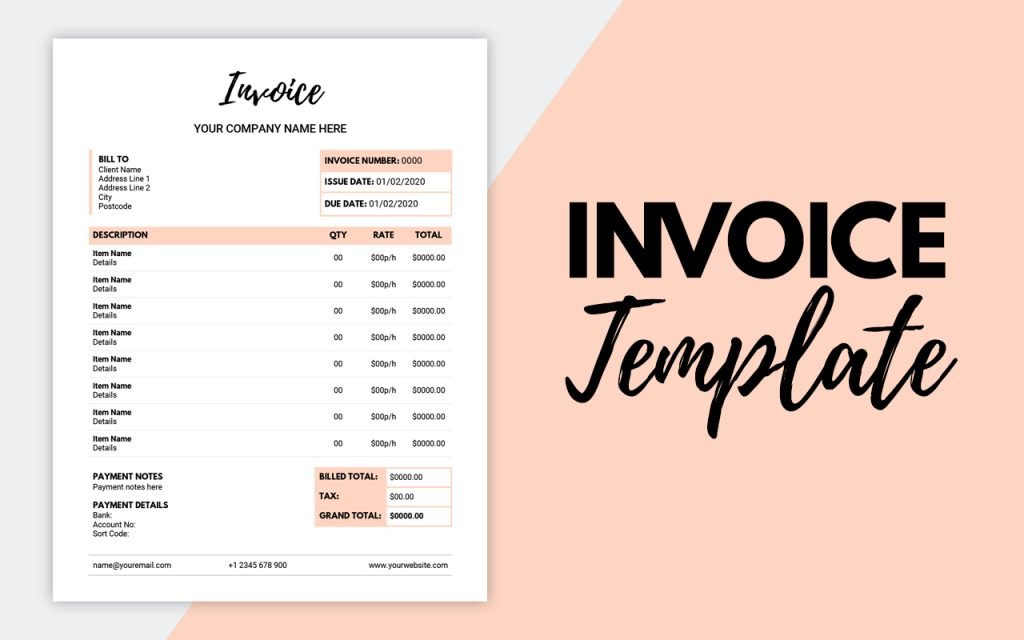 Our invoice template has everything you need to construct professional-looking invoices that impress clients.
You can download our invoice template printable from our store here. The template is fully customizable in MS Word.
Say goodbye to stress and uncertainty when it comes to billing your clients. Use our invoice template to craft efficient invoices that look professional and contain the key information your clients need to pay promptly.
How Do I Fill Out the Invoice Template Printable and Create My Own Invoice?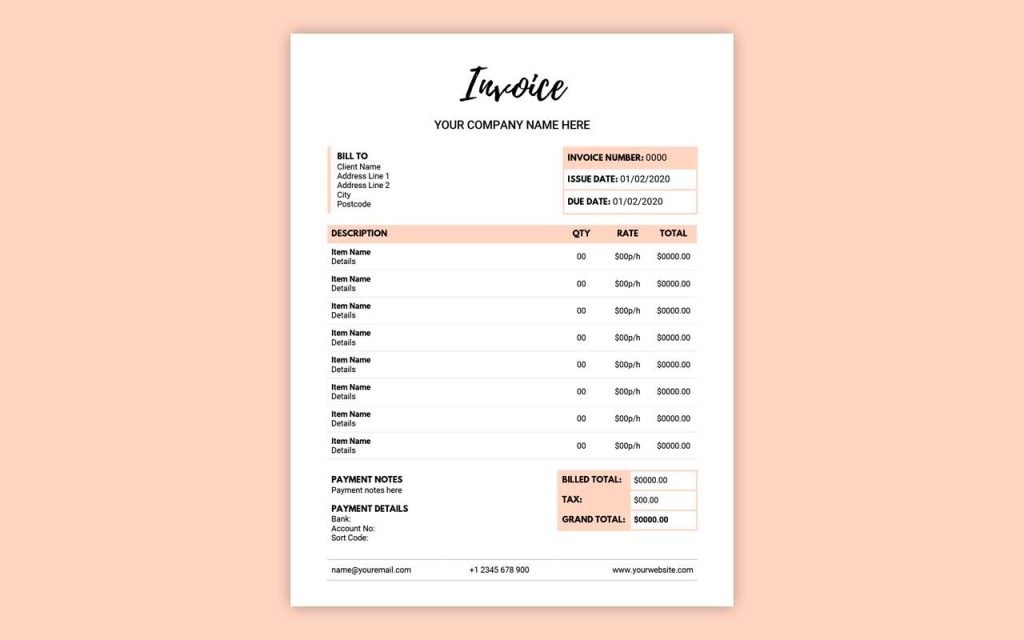 Using our invoice template is very simple. All you need is Microsoft Word installed on your computer, and the appropriate information on hand.
Download our invoice template to your machine, and open it from your downloads or designated saved location.
Once opened, save a different copy to your machine. That way, you'll still have the original template to work from. Name your file according to your client's name and invoice number.
If you want the same design as the mockup, install the free fonts included in the zip folder.
Then, add your company details or branding. Change 'your company name', or insert an image of your company logo instead of the text.
Insert your client's billing address, and then assign the invoice a number, issue date, and payment due date.
In the next section, break down the work completed for the client. Name each item, briefly describe the work completed, and list the quantity, rate, and cost of each item.
Add the total amount of all the items together, add your tax (if applicable) and insert the total amount your client owes you.
Clearly list your payment details (you may want to include more than one, such as bank transfer and PayPal) and add in any payment notes or terms (e.g. reminder that payment is due 7 days from issue date).
Fill in your company details, so that your client can contact you.
Save the file, either as a Word document or PDF, and attach it to your email to your client when it's time to request payment.
And there you have it. This template will help you create a simple and professional invoice that will help you get paid promptly and with clarity.
What Information Should I Include in an Invoice?
The key to a great invoice is in the detail. Invoices need to display a lot of key information, but in a clear and concise way.
A professional and efficient invoice should include the following:
The word 'invoice' on the document, so that it's clear what it is
Your company name, branding, and contact information
A unique invoice number, so that you can track all your invoices
The invoice issue date, and the date the payment is due
Your client's billing address
A breakdown of all items/services completed for your client, with brief descriptions if necessary
Next to each item, the cost of that item, determined either by a fixed rate or an hourly rate multiplied by a number of hours worked
The total amount to pay, including taxes and any additional fees, clearly listed
Your payment details, such as your bank details, and payment terms
While initally this may seem like a lot of information, our invoice template printable has all of these details.
As you can see, with some structured and concise design, you can include all the key information on your invoice without overwhelming your client.
Things to Remember When Creating an Invoice
1 – Be sure to include your branding
Clients want assurance that they are dealing with a professional supplier. When requesting payment, the last thing you want to do is create doubt in their mind.
Purely text invoices with no branding feel unprofessional. You want to show you put thought and care into all aspects of your business, including your invoices.
Your company name, logo and color will help inject life into your invoice. It will also help your client trust they are dealing with a professional company or freelancer.
2 – The invoice number, issue date and due date are very important
While these numbers may not feel as important as the price or payment details, they are vital for your records.
Every invoice you create should have a number. It's also common to include an lettered code, along with the number, to identify the client.
Numbered invoices allow you to track all your invoices. They help keep things in order when it's time to do taxes.
Your issue date and due date signify to the client when the work was completed and the window of payment.
Without these numbers, payments will be late. If the client has no due date to pay by, they can very easily forget, or pay on their own terms.
3 – Break down your completed work into specific items
For some clients, seeing one sum of money owed will lead to ask questions. You need to make it clear to them all the different services and items completed.
Once you have listed those items, assign your rate for the work completed for each.
This will either be a fixed price, that you agreed on at the start of the contract. Or, if you're being paid hourly, show how many hours worked on each item.
The easier it is for your client to understand the total amount, the quicker and smoother the payment.
4 – Include all additional fees and taxes in the final billed invoice
Nothing annoys clients more thinking the work costs a certain amount, only to realize at the end that taxes have not been added on.
Be sure to show all additional fees and taxes in your final billing amount. That way, you make it clear the exact amount that needs to be paid.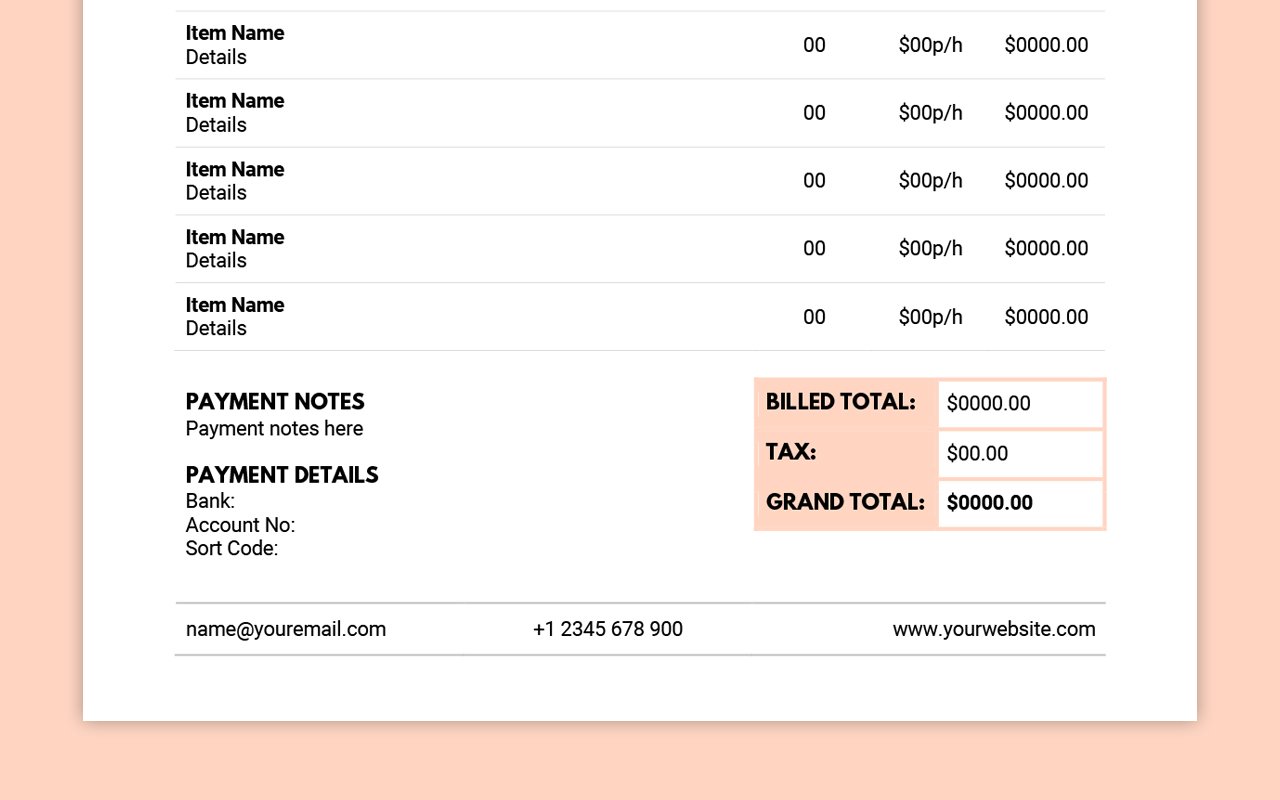 5 – Double check your payment details
One wrong number, and your client's payment could bounce. This looks unprofessional, and will cause additional stress for your client.
Double check the bank details on your invoice to make sure they are accurate.
If you can, include a second way to pay. This could be through a PayPal account, for example. More options will allow you to get paid faster, with little complications.
6 – Make your payment terms fair and clear
Lastly, make it clear to your client how long they have until the due date. Don't be too forceful, but to the point.
Making it clear to your client of the due date and number of days to that date helps them visualize it.
If you don't make these details clear, you could be waiting months for payment.
Without clear instructions on your invoice, you cannot expect your client to pay on time.
Invoice Template Printable: Get Now
Invoicing is not the most glamorous of things you need to do as a freelancer or service producer. But there's no doubt it's one of the most important.
Getting paid accurately and on time helps keep you stress and anxiety-free, and your business' cashflow in a healthy state.
A well-designed invoice, with all the necessary details, will go a long way to making you look professional and getting you paid on time.
An invoice template printable, if you're unsure of how to create an invoice, will help remove that pain point.
That way, you can focus on delivery a quality product or service, and simply fill in the payment details at the end of it all.
---